Sidecar 1.5
Sidecar makes all of your iOS music applications better. Here are the key features of the app.
There are ten pages of MIDI control pads. Each page can send MIDI events to multiple destinations, and you can configure single notes, chords, or MIDI CC and PC messages.
Note and chord pads can toggle, or are only on while you touch. You control note velocity with the horizontal touch position (left is softer, right is harder). Each pad can be configured individually.
With MIDI CC messages, you can toggle on touch-value, and use the pad as a horizontal slider. Map the CC values to a synthesizer that supports MIDI learn, and you can easily control a variety of parameters to shape the sound you hear. The pad will display the last CC value sent (so you can adjust as needed).
Version 1.5 adds a configurable MIDI keyboard. You can switch between a standard piano layout, or a scale-based layout.
Sidecar is an IAA host; you can add synthesizers to the app, and then record the audio easily. There are level and pan controls for each app.
Your recordings are not trapped on your iOS device. Sidecar has a built-in web server, so you can transfer recordings to a desktop wirelessly. No need to hassle with File Sharing, or anything else!
Sidecar can also stream audio over WiFi, to Apollo Sound Injector, running on either another iOS device, or on a Mac. The audio is low latency (unlike AirPlay), so you can use it to play "live." Note that you'll need a WiFi network with good bandwidth for this to work smoothly.
Use an ordinary Bluetooth QWERTY keyboard to add a wireless MIDI controller. Sidecar will take your keystrokes, and can toggle on or off the MIDI pads. The number keys are mapped to the pads, while the upper QWERTY row selects any of the ten different groups of pads.
The lower two rows of a QWERTY keyboard are mapped to a piano-style layout, so that you can play MIDI notes. The lower case Z is mapped to the note C, the X is mapped to D, and so on. The row "ASDF" is the sharp keys. Sidecar lets you use an ordinary Bluetooth keyboard as a sophisticated MIDI controller!
More? Of course there's more! If you have an iON iCade (or similar Bluetooth game controller), you can use this to toggle on and off pads, or select different sets of pads. The iCade is inexpensive and easy to hack; with some basic hardware skills, you can make easily make a MIDI foot controller, and use it with guitar amp simulators!
With split-screen support on newer iPads, you can use the MIDI controls of Sidecar simultaneously with working with other split-screen compatible apps. Sidecar provides an easy-to-use IAA host, with a built-in recorder, and support for level adjustment and pan for each app. There's a web server, to make it easy to transfer your recordings from your iOS device to a desktop. Sidecar can stream audio over WiFi, to Apollo Sound Injector running on either an iOS device or a Mac. There are ten pages of MIDI pads, to trigger notes, chords, program change messages, or CC messages. And it can even relay incoming MIDI, so that you can easily redirect a MIDI controller from one synth to another.

We designed the app with our MIDI looping and sequencing app Infinite Looper in mind. They can run side-by-side on the iPad Air 2 and iPad Pro, giving you a flexible and powerful MIDI environment, so that you can quickly put together song ideas, or create an immersive live performance. There's also a scaled down version of Infinite Looper for the iPhone; give Aleph Looper a try, and use the bundle to upgrade to the universal version if you dig it!

Want more? Secret Base Design is part of the team that created musicIO, the best way to transfer audio and MIDI from an iOS device to an Mac or PC DAW.

Here's a quick look at Infinite Looper.

And here's an intro video showing you some of the features of Sidecar.

For the iPad, Sidecar supports side-by-side and slide-over, so that you can have multiple music apps open at the same time (iOS 9 required).

And for both the iPad and iPhone, there's robust support of external Bluetooth keyboards, and the ION iCade; trigger the pads with an ordinary keyboard, or repurpose the iCade as an easily programmable MIDI foot pedal.
What Else Can Sidecar Do? Lots
Inter-App Audio Hosting
Built-in Mixer and Stereo Panning
Built-in Audio Recording and Playback
Access audio recordings with the built-in web server
Stream audio to another iOS device or a Mac, using Apollo Sound Injector
Expanded support of external Bluetooth keyboards
Using Sidecar
Sidecar was designed with the expectation that you will have another music application as your main focus. Bring in Sidecar to part of the screen for pads that can trigger MIDI notes, chords, program change messages, and control change messages. Sidecar supports Bluetooth QWERTY keyboards, and also game controllers such as the iON iCade -- you can trigger the pads with taps on the physical keys of the keyboard. Because Sidecar uses MIDI, you can control many other music apps (whether they're running in the foreground or not).
IAA Hosting
On the "IAA" tab, you can insert IAA apps by tapping the plus button. Once installed, you can adjust the volume level and pan with the two controls to the right.

Audio that is captured through IAA can be recorded; just tap the circular record button on the lower left to turn recording on and off. You can playback recorded audio with the triangular button.

Sidecar automatically starts a web server; you can direct a web browser to the IP address indicated on the "recordings" tab, to download files to a desktop computer.

Audio can also be streamed over WiFi, to Apollo Sound Injector.
MIDI
Sidecar supports ten different MIDI destinations, and has ten configurable pads for each destination; these are organized as separate pages, which can be selected by tapping the light grey buttons down the left side of the screen, or by pressing keyboard keys (q, directly below and to the right of the "1" key, selects the first page, w, directly below and to the right of the "2" selects the second page, and so on). Each pad can send a MIDI note, a MIDI chord, a program change message, or a control change message.

As an example, the image below is Sidecar with Animoog -- the first few pads send different major chords, but there are also pads assigned to control change messages -- touches on the pads are mapped to MIDI CC values. Animoog has been configured for these messages using MIDI learn.
Setting Up Sidecar
Setting up Sidecar is quick and easy; you have ten pages available for configuration, so you should first decide which pages correspond to the apps you use. The setups used by the development team usually have a few popular synthesizers (Animoog, Nave, and Cassini) on the first three pages. The DAWs Gadget and Cubasis occupied the next two spots. The final spots were occupied with a number of amp simulators, and an amazing super-secret app called Infinite Looper, which is currently under development (but it might be available by the time you read this). It's secret, though. So if it's not available, keep the news just to yourself!

Start an app you wish to control, and place it in the background. Then, in Sidecar, tap on the light grey button for the page you wish to associate with the app. Tap the "Configure MIDI" button, and a dialog will be presented -- you can toggle on the MIDI interface for the app, and set a MIDI channel if desired (simply press and hold the name of the app for a secondary dialog). The image below shows what things look like when for setting up Animoog.
Once you have the MIDI destination set, tap outside of the dialog box to dismiss it. Then, tap "Configure Pads" to set Sidecar into configuration mode.
While "Configure Pads" is highlighted, any taps on a pad will bring up another dialog box -- here, you can set the pad to send a note, a chord, program change messages, or control change messages. If desired, you can enter a name to display on the pad -- this is useful if you are using the MIDI message to select a patch for a synthesizer or guitar effects app, or to control start and stop in a DAW. The image below shows the setup for a control change message -- this will get mapped to the bit crush parameter from Animoog, and uses CC message 4. Note the touch value toggle: when enabled, the value of the CC message will be determined by where (horizontally) you touch on the pad. This lets the on-screen pads act as faders for MIDI values. Also -- the MIDI velocity of notes and chords are determined by where you touch on the pad -- touch to the left for softer notes, or to the right for louder.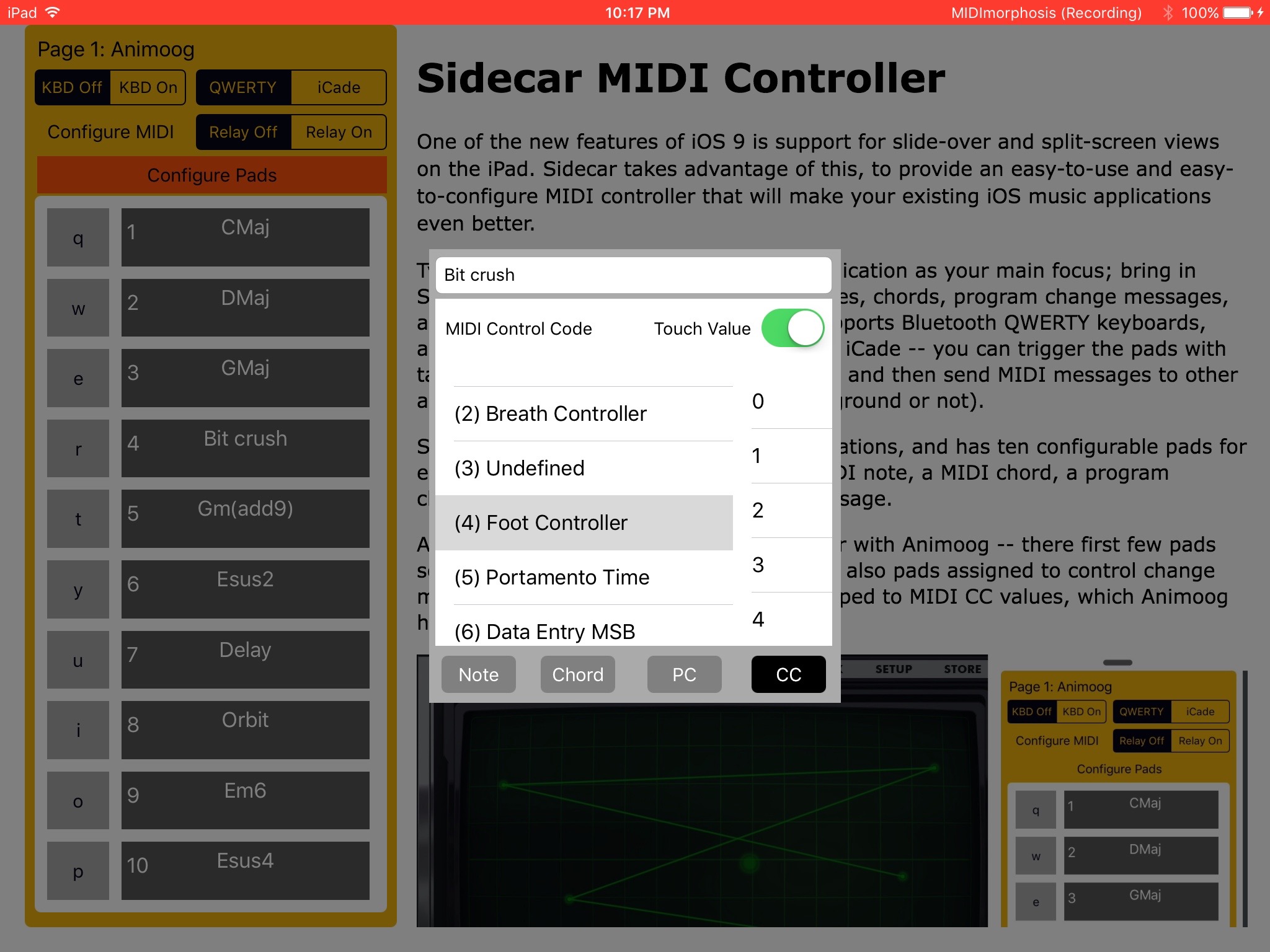 Sidecar for DAWs
Sidecar can be used to add programmable pads to any DAW -- set up chords, or you can control the transport of the DAW if it supports MIDI start and stop messages. Using an external QWERTY keyboard, you can add a physical piano keyboard to apps such as Gadget -- you can safely rest your fingers on the physical keyboard, and only trigger notes when you press.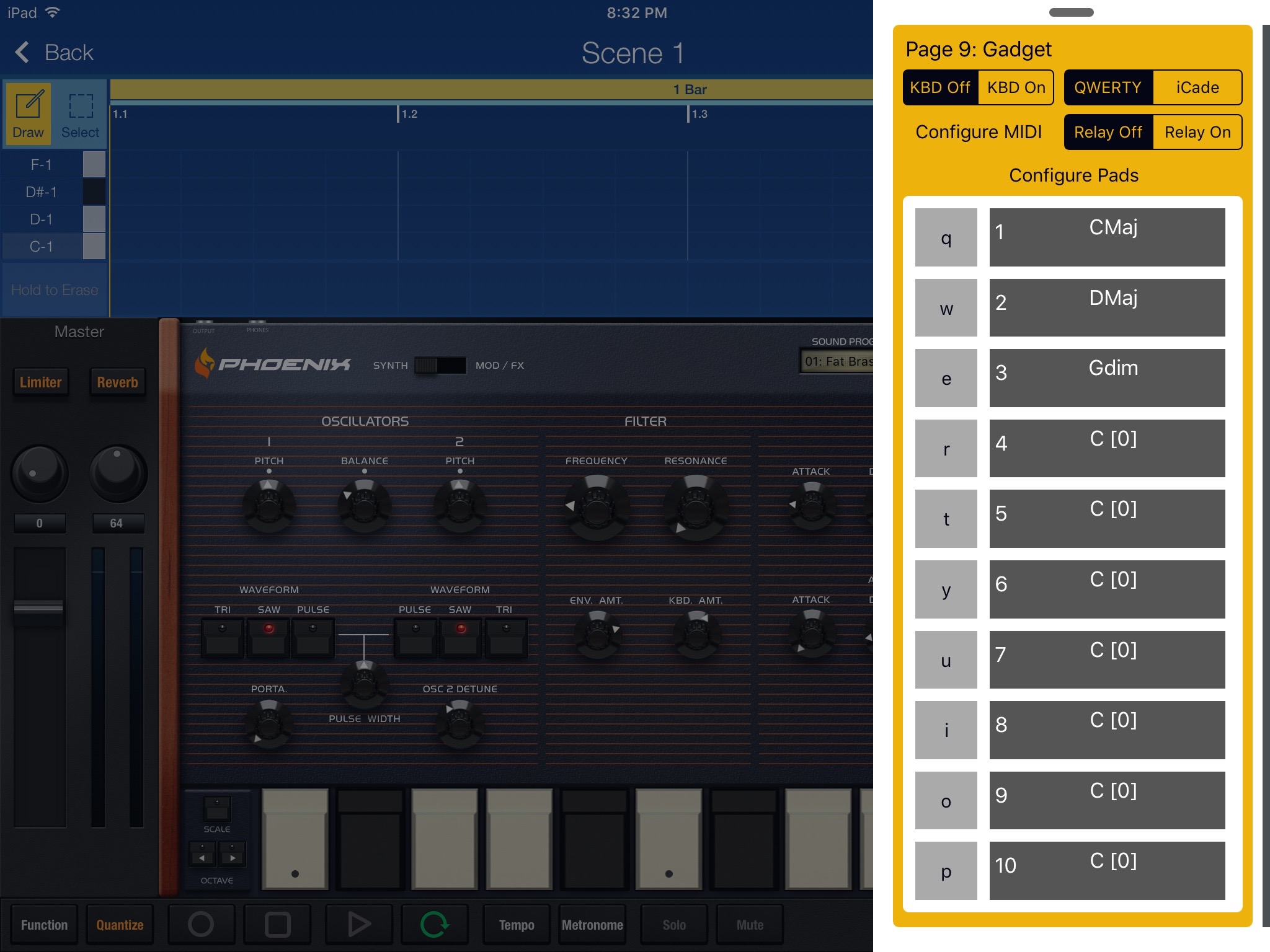 Sidecar for Guitarists
If you play guitar, you have probably seen the explosion of excellent amp and effects box emulators. Many of these support MIDI to select different presets, or to change effect parameters. You can use Sidecar to control all of these -- either with taps to the Sidecar screen, or by pressing on the buttons of a Bluetooth keyboard controller. Each of the pads can have a user-defined title, so that you can keep track of which pad selects which patch. Here's a set-up with Tonestack; Sidecar works with Flying Haggis, Flux:FX, Bias, and many others.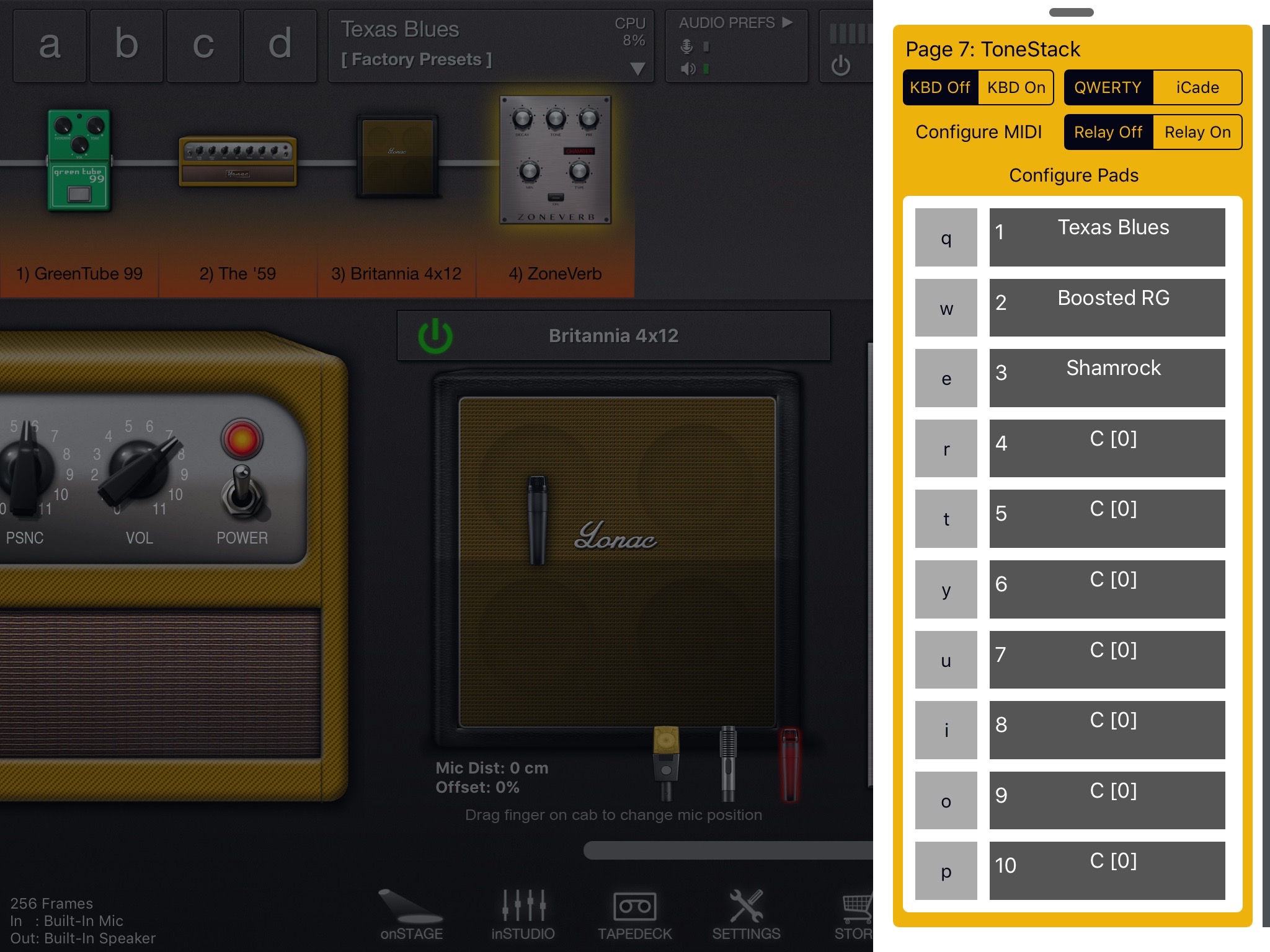 You can even use Sidecar to control MIDImorphosis, the innovative pitch-to-MIDI app designed for guitarists. Using the MIDI learn features of MIDImorphosis, you can set up Sidecar to toggle on or off pitch conversion, switch from polyphonic to monophonic conversion, or change the destination for MIDI notes.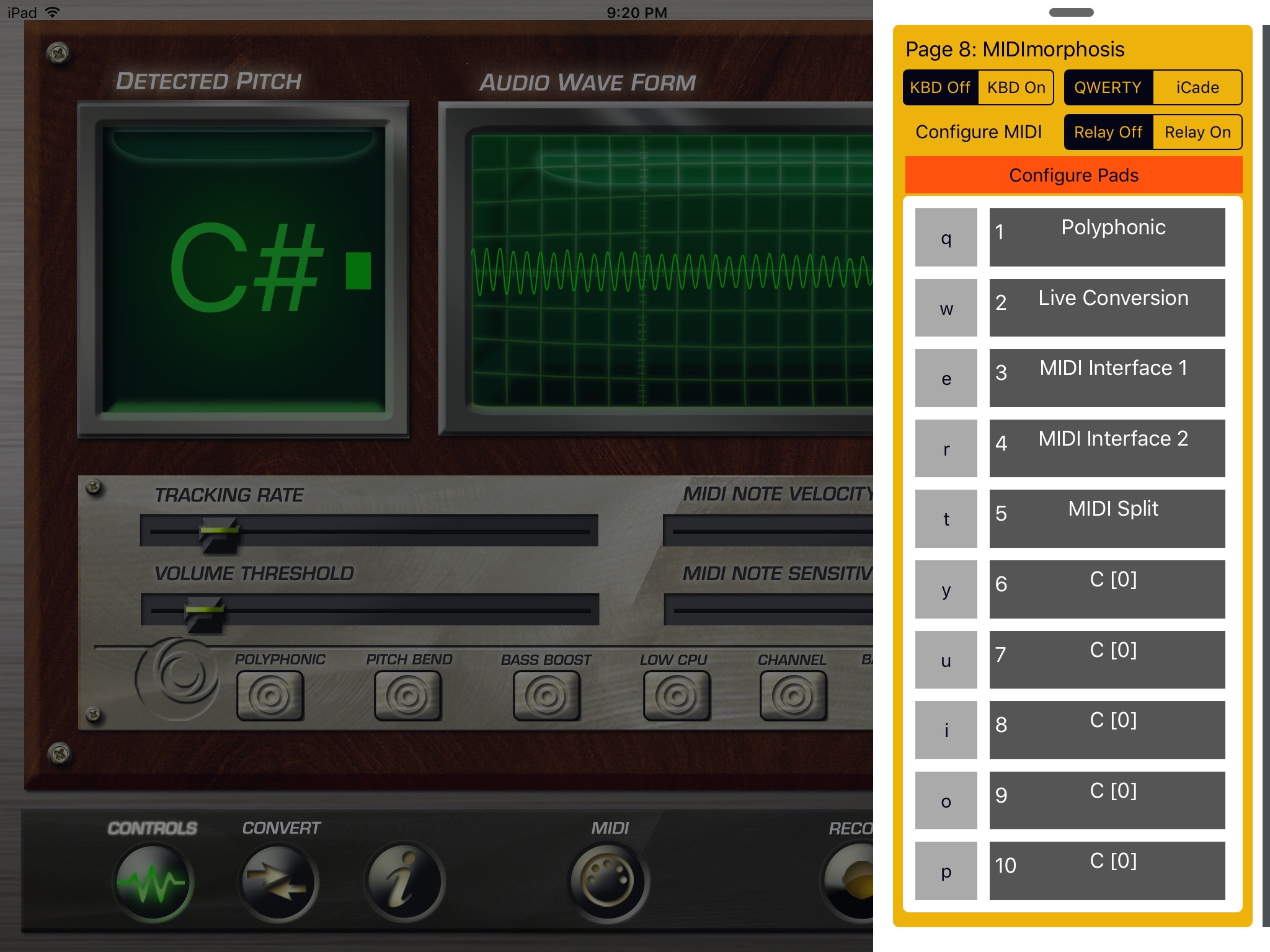 Here's a quick look at MIDImorphosis. Like Infinite Looper, it's been designed to support MIDI learn functionality, so you can control pitch-to-MIDI conversion from Sidecar. This is particularly relevant when you hook up an iCade Bluetooth controller -- you can make a wireless MIDI foot pedal that will control MIDImorphosis, amp simulators, and more!
Sidecar for Drum Machines
Sidecar is also a great addition to drum machine apps; it supports game controllers such as the iON iCade. You can program the pads of Sidecar to send the appropriate MIDI notes for a drum sample, and then use the physical button controllers of the iCade to capture a tricky rhythm.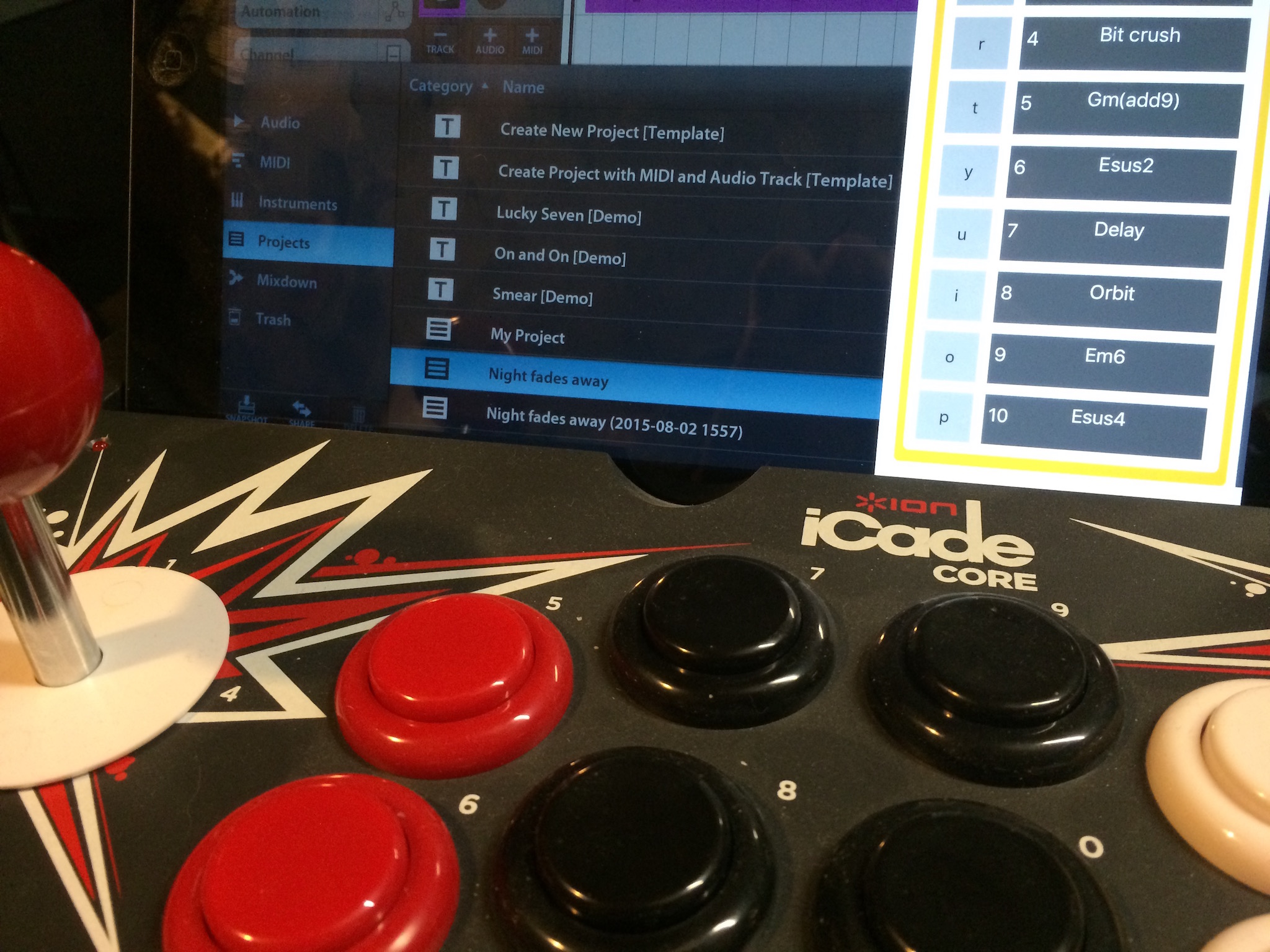 Supported Bluetooth Keyboards
Sidecar supports standard Bluetooth QWERTY keyboards; simply toggle on the keyboard input at the top right part of the screen. Incoming keystrokes can be used to control the app. The number keys along the top row of the keyboard trigger the pads. If the pad is assigned to a note or chord, the pad will toggle on and off with key presses -- you will have to "start" and "stop" notes. If the pad is assigned to a program change or control change message, the pad does not toggle. You can select different pages of controls using the next row of keys -- 'q' selects the first page, 'w' selects the second, and so on. The last two rows of the QWERTY keyboard are arranged as a piano-style keyboard, with the 'z' key being the note C. The sharp keys occupy a portion of the next row -- 's' is C#, 'x' is D, 'd' is D#, and so on. With the piano-style portion of the keyboard, the keys do not toggle -- each time you press a key, any currently sounding note is ended. This arrangement makes it easy to play melody lines which sound smooth and natural. Pressing the space bar terminates any sounding note.
The iOS iCade
Sidecar also supports game controllers such as the iON iCade. Toggle the app to use the iCade keyboard mapping, and then the top four buttons of the iCade will trigger pads 2, 3, 4, and 5 of Sidecar. The bottom four buttons trigger the 7, 8, 9, and 10 pads. Pressing left on the joystick will trigger pad 1, while a press to the right is pad 6. Pressing up will move to the prior set of pads, while down will move to the next page. The key difference between an iCade controller and a standard Bluetooth QWERTY keyboard is that your iOS device receives a notification when a button is released -- QWERTY keyboards do not send this information.
MIDI Relay
Sidecar can also forward MIDI messages to other apps. Turn on MIDI Relay, and then any MIDI message that is sent to Sidecar will be relayed to the destinations of the currently active page. You can use this feature to quickly and easily switch which apps a physical keyboard (or other MIDI generating device) sends MIDI too.

If MIDI Relay is off, Sidecar ignores any incoming MIDI messages.

Be careful with relay -- it is possible to create MIDI loops, where an outgoing MIDI message arrives back at Sidecar.
About Secret Base Design
Secret Base Design is an independent software development company. We have produced a number of innovative applications.

In collaboration with our friends from Confusion Studios (creators of MIDI Designer) and Audeonic Apps (creators of MIDI Bridge), we have developed apps to send both audio and MIDI over a standard USB sync cable. musicIO for MIDI is available free; if you want to capture audio as well, the full version of musicIO handles both MIDI and audio. The apps work with many DAWs on both Macs and PCs.

If you have questions about any of our apps, please feel free to contact us through email, or through our Facebook page! We hope you enjoy Sidecar; a review in the iTunes store would be very much appreciated!

And a big thanks to our users and friends who have made many helpful suggestions. TGiG, OceansInSpace, LukeSleepwalker, Matt_Fletcher, and many more -- you're awesome. Thanks for hassling us to get this app done! You can check out the iCade-based foot controller that LukeSleepwalker put together on the Audiobus forum!.